Tennis Court Repair
The majority of tennis courts require no more than one surface clean per year, although if your court is sheltered by trees then you may require two visits. we carry out a free court check and consultation to ensure you have the most appropriate tennis court repair and maintenance programme for your personal needs.
Maintenance
Regular tennis court maintenance and resurfacing will prolong the life of your tennis court and will help reduce the risk of more costly repairs later on.  As well as prolonging the life of your court, regular tennis court maintenance will protect players against possible slippage and injury. It will also ensure that the court lasts so you can spend your time enjoying it.
Our Tennis Court Repair Process


Step 1: Beginning the initial inspection, we carefully clean the court so we can see the condition of the porous macadam surface underneath and lines.
Step 2: After cleaning the court we clean the surrounding fence. A video can be seen here on our Facebook page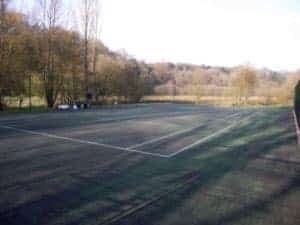 Step 3: Repair the macadam court surface. Porous macadam tennis courts require very little maintenance, with the main issue being a build-up of moss over a period of time, especially during winter months.  Not only does moss make the surface slippery, it can also penetrate the pores of the macadam and will begin to break up the surface if left unattended.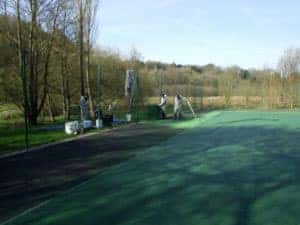 Step 4:  If the Macadam surface is good condition or after we have repaired the surface we then paint/re-paint the surface to your colour of choosing. Many customers go for green, although we have some examples of red surrounds too.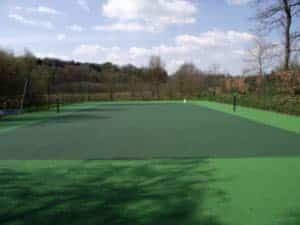 Step 5: Once the court is painted and the surrounding area is painted to your colours we make sure the court surface is thoroughly dry and up to our high standards before moving on to the next step.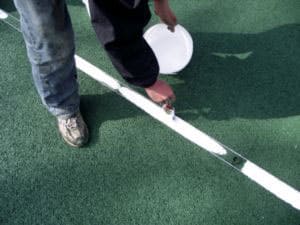 Step 6: The lines are applied using traditional methods and sometimes even hand finished. This means the lines are exactly where they are meant to be and also stay fresh and clean.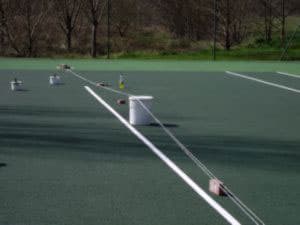 Step 7: leaving the lines to completely dry before walking the customer through the court to make sure they are satisfied.
This completes the typical tennis court repair process, we are happy to customise the process to meet your needs and requirements